Peace Education & Islam TextBook
The rapidly deteriorating security situation in Pakistan requires dedicated effort to promote peace and tolerance at all levels of society. The growing radicalization and extremism demands an urgent intervention to develop strategies and programs to build peace in the communities that are affected by conflict and violence. While other strategies might also help, educating teachers and students through specifically designed textbooks and education programs will prove beneficial. The inclusion of peace education as part of curriculum is unequivocal to cultivate a generation of peace-builders.
'Peace Education and Islam' textbook was introduced by Peace and Education Foundation in 2014. Introducing peace textbook program for madrasahs aims at making teachers and students as an integral contributor in peace-building process, spreading tolerance, respecting diversity and democracy to bring about behavioral change in their communities. The methodology of peace textbook specifically designed to cater the need of peace education for young students also encourages critical thinking and community leadership. The specialized activities and programs provide new dimensions of thinking for peace-building and conflict resolution through educational means.
The major objectives of Peace textbook are:
To promote and inculcating the culture of peace in teachers and young students by incorporating peace education in Pakistani curriculum.
To empower the students (madrasa youth) and teachers with skills like critical thinking, self-awareness and peace-building in order to prevent and counter the contemporary challenges and issues of extremism.
To impart knowledge, skills, awareness and attitudinal transformation to the young generation especially from madrassah in accordance with global best practices of peace education.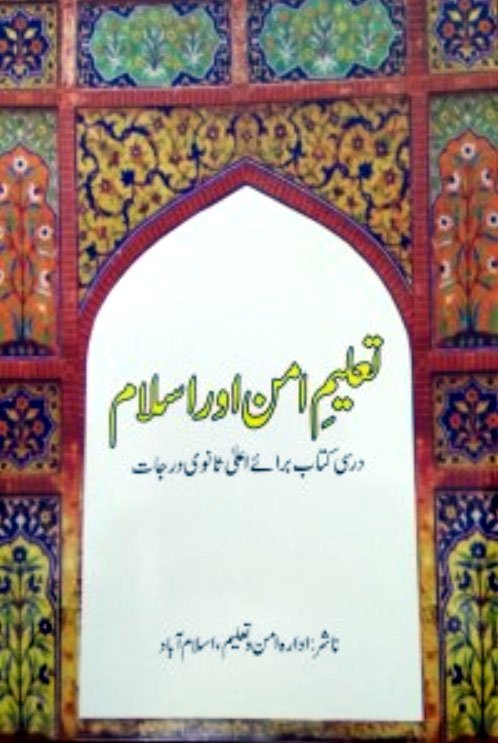 Title page of Peace, Education & Islam TextBook Click here to read online
The idea of the textbook first emerged in 2011 after Peace and Education Foundation (PEF) arranged visit of ITMP leadership to Egypt, Turkey and USA in 2010-2011 to explore the best practices on religious education systems in different countries. After these exchange programs they requested PEF to develop a textbook for Pakistani madrasahs affiliated with all five boards of ITMP to promote religious harmony and peace in Pakistan.
After continuous efforts and extensive consultation process with ITMP, the first edition of the textbook was published in October 2014. This book includes contributions from each of Pakistan's five madrasah boards and carries their endorsement, as well as the support of leading Pakistani religious scholars. The textbook is currently taught to the secondary grade students in numerous madrasahs across Pakistan.
The textbook elaborates multiple themes and topics according to Islamic and modern perspectives on religious tolerance, diversity, ethics of disagreement, peace-building, conflict resolution, dialogue, human rights and positive communications strategies. The designing approach is interactive and activity-based which covers knowledge, skills, attitudes, critical thinking, socialization and actions on the given topics.
PEF has also designed an interactive and contextualized teacher's guide on how to teach peace textbook. The trained madrasah teachers are currently teaching the textbook in their classrooms. With the growing appreciation the demand for the book is increasing. Therefore, a translated Pashto version of the book is published while the English translation is under editing process. In the short span of two years (2015- 2017) PEF has trained 1,610 madrasah teachers (male and female). These trained madrasah teachers have taught the textbook to more than 40,000 students in madrasahs all over Pakistan.
Our Partners
---

---
| Stages | Project Deliverables | Objective | Status | Outcome |
| --- | --- | --- | --- | --- |
| 1 | Developing Peace Textbook | To promote peace education in Pakistan | The book was launched in 2014 | Madrassah teachers and Students are equipped with knowledge and skills of peace-building. |
| 2 | Developing Teacher's guide to teach Peace book for madrassah teachers | Engaging experts to design training manual that equip madrassah teachers in advance pedagogical skills, peace- building and critical thinking. | The manual was finalized in October 2014 | |
| 3 | Engaging and training madrassah teachers | To train a diverse group of madrassah teachers represent all major Muslim sect sects (Deobandi, Barelvi, Ahl.e.Hadith, Shia and Jamat.e.Islami) on Peace Textbook. | Peace Textbook program will continue under PEF multiple projects. | Madrassah teachers (both male and female) are equipped with various peace related concepts, advance pedagogical skills, community leadership and critical thinking. |
| 4 | Teaching Peace Textbook to Madrassah students as follow-up | To prepare young Pakistani students as 'Peace Champions' of future through education. | Under multiple projects by PEF peace book is currently taught in various Pakistani madrassahs. | Students are learning the set of soft skills like critical thinking and community leadership. Moreover their understanding of religious diversity, human rights, peace and conflict has improved. |